Welcome to TGIFF at Faith and Fabric! It's always nice to finish something, isn't it? Of course, any finished project is more than welcome. If you're new to my site, take a look around. I'm a Christian quilter and pattern writer, and love sharing my faith through fabric and crafts. I also just published my first book: Our Family's Jesse Tree!
Sharing a creative quilting project today. I've been trying to use up my scraps – and have been successful on projects like the scrappy runner pattern for Halloween. Other scraps, though…not so much. Last year I made some pillows for our outdoor patio, and had three odd-shaped pieces of fabric left of that extra thick outdoor fabric. It's been taking up some room in my quilting studio – until this past week when I got seriously grossed out by our kitchen chairs. I mean, seriously – I know they're kitchen chairs. I know things get spilled on them. I know my house is a home and *not* a museum. But still…ewe. The fabric on the seats was super faded, stained, pilling, and sitting on them was uncomfortably mushy.
Luckily I'm married to a very talented (and kind and handsome) general contractor. Before I knew it, he made some great bases for the chairs to make the seats more sturdy. Brilliant. Next step was mine: reupholstering. After looking through my fabric stash, I happened upon those outdoor fabrics – but they were the wrong size! No problem, right? Because…PATCHWORK! A few days later, and I'm absolutely LOVING these new reupholstered chairs – with a quilt for a seat. Making them is easier then you'd think! Give it a try.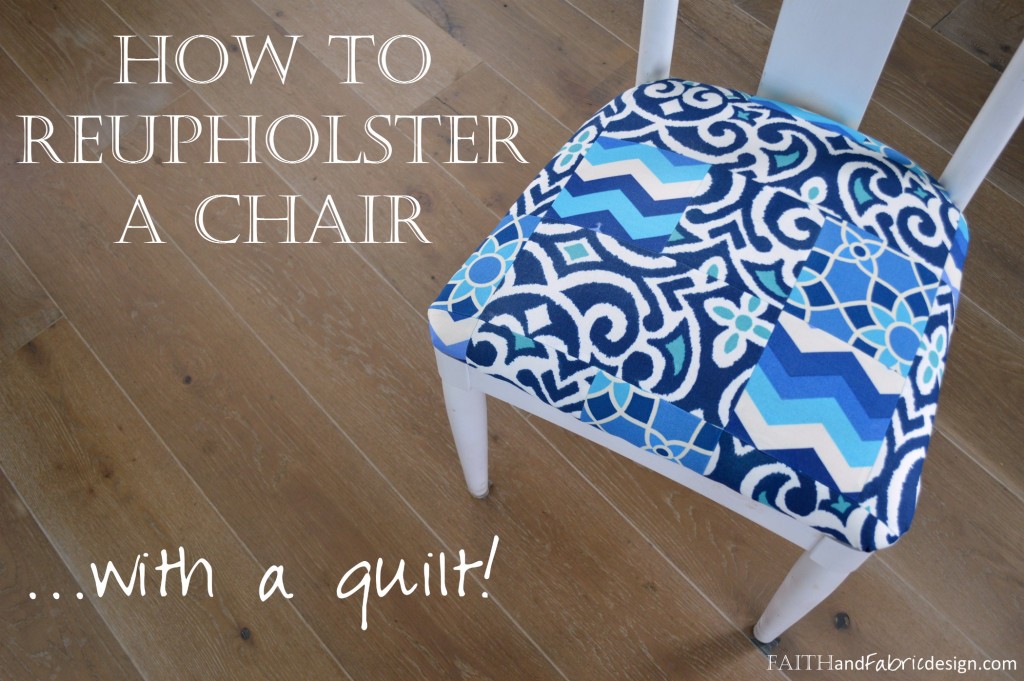 Looking forward to seeing your finished projects this week!

Just for fun…this post links up at these great Catholic and quilting sites!
(Visited 533 times, 1 visits today)