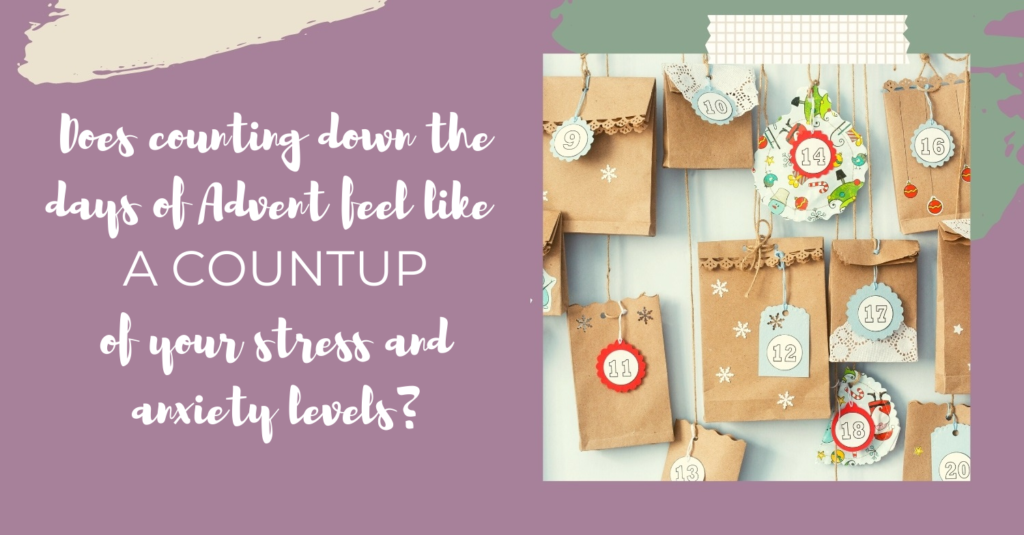 I have a reputation in my house for being a not-so-distant relative of the Grinch when it Christmas rolls around. For me, the season of Advent gets so overshadowed with shopping, baking, cooking, decorating, partying, and every other -ing, that – come Christmas – I'm ready for it to be over. Bah-humbug.
A few years ago, I made the choice to be more intentional with my Advent season. I focused on overall wellness, finding moments of peace each day, and incorporating bits of faith into our daily routines. The first few years were a bit tougher, as there weren't simple resources or tools; hours browsing the web often led to frustration, not the much sought-after peace. Then, I picked up a copy of the Catholic Mom Bundle – and honestly found so many wonderful resources for me, and my family, that have truly helped us stay focused, find peace, and even have faith-filled fun during this otherwise hectic season.
This year's bundle is so SO good, you guys! So good, in fact, that I really wanted to share a deeper view with you of what's included – so I made you this little video sharing some of my favorite parts of the bundle:
Aren't there some amazing resources included? Those were my favorites, but – as the saying goes – we are each uniquely and wonderfully made. So, the things that work best for me may be different for you. With that in mind, here's a full list of everything included:
Track feast days and liturgical seasons with "2020-2021 illustrated Wall Calendar for Everyday Catholics" by Arma Dei

Create a faith-filled Advent for young kids with  "Advent Activity Guide" from My Little Patron

Engage elementary schoolers with "Advent Saints Word Puzzle Bundle" from The Kennedy Adventures

Focus on your whole-person health with "An Advent Wellness Journal "by Catholic Fit Moms for Life

Explore the Sacraments with "Catholic Paper Doll Lapbooks" from To Jesus, Sincerely

Reignite your prayer life with "Catholic Prayer Journal Bundle" from Catholic Mom Vibes

Reconnect with your husband with "Dating in Marriage Bundle" from Surprised by Marriage

Playfully study the Saints where to buy phentermine online in uk with "December Saint Trading Cards and Coloring Pages" from Catholic Paper Goods

Enter the lives of the Saints with "December Saints for Young Children" by Rebecca Gorzynska and Colleen Pressprich

Learn to share the faith with "Evangelization and Catechesis Bundle" from Say Yes to Holiness

Refresh your mind, marriage, and spirit with "Exceptional Parenting Bundle" from Not So Formulaic

Plan your homeschooling with "Homeschool & Day Planner 2020-2021" from Classically Homeschooling

Decorate through the seasons with "Liturgical Year Prints" from The Washington Homestead

Journey through the Bible with "Our Family's Jesse Tree" from Faith and Fabric

Have a prayerful Advent with "Prepare for the Light: Weekly Advent Meditations" by Live, Not Lukewarm

Adorn your home with "Printable Prayers" from Prayer Wine Chocolate

Pray as a family with "Rosary Resources" from Catholic All Year

Engage and delight your kids with "Saint Stories with Billy the Puppet" from Faith and Puppets

Unleash your inner guerilla prophet with "Sing the Goodness" from Faithful, Not Successful

Create a beautiful handicraft with "Snowflakes Ornaments Embroidery Pattern" from Happy Nest Home Goods

Declutter your home with "Unbound: A Catholic Approach to Clutter" by Green Catholic Burrow

Ordinarily all of this would cost $557. That's a fortune, I know! However, for the next 5 days we're selling all our products as a bundle for only $25…that's 96% off. It's one of those deals that really *is* as good as it sounds! 
As a thank you for purchasing through my link, I'm happy to offer you these three quilting prints ($15 value). I have them hanging up in my quilt studio, and always get compliments on them! Whether you hang the funny "She who dies with the most fabric wins", the advice-filled "Measure twice, cut once", or the loving "Family is a patchwork of love", you're sure to smile at the colorful message each time you see it in your sewing space.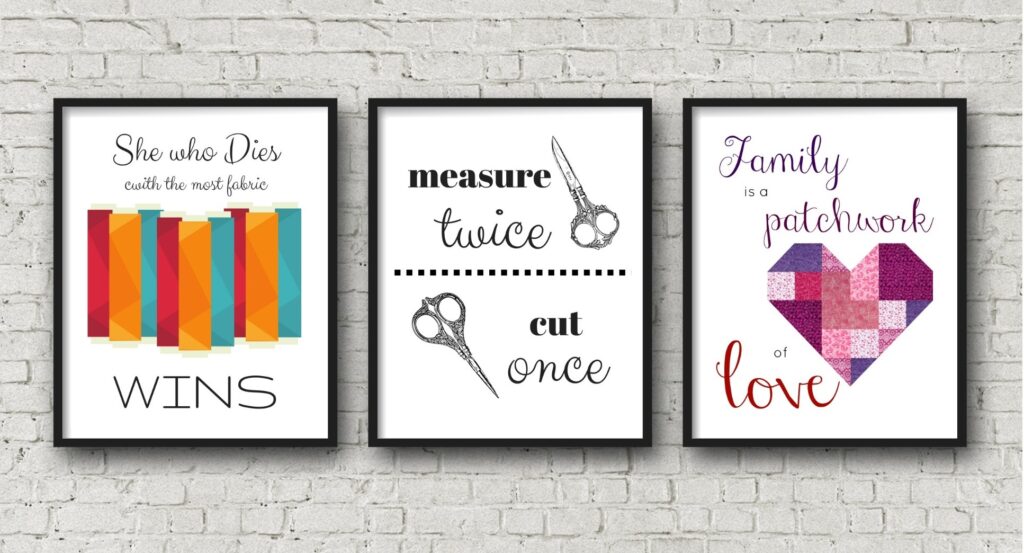 I encourage you to begin planning out your Advent season now, aided by the amazing resources in this bundle – but don't wait too long to purchase. It's only on sale through Friday. I really don't want you to miss out…after November 20th, it's gone for good.
As always, I wish you an upcoming Advent season full of family, faith, and fun. Thank you for being part of our Faith and Fabric community!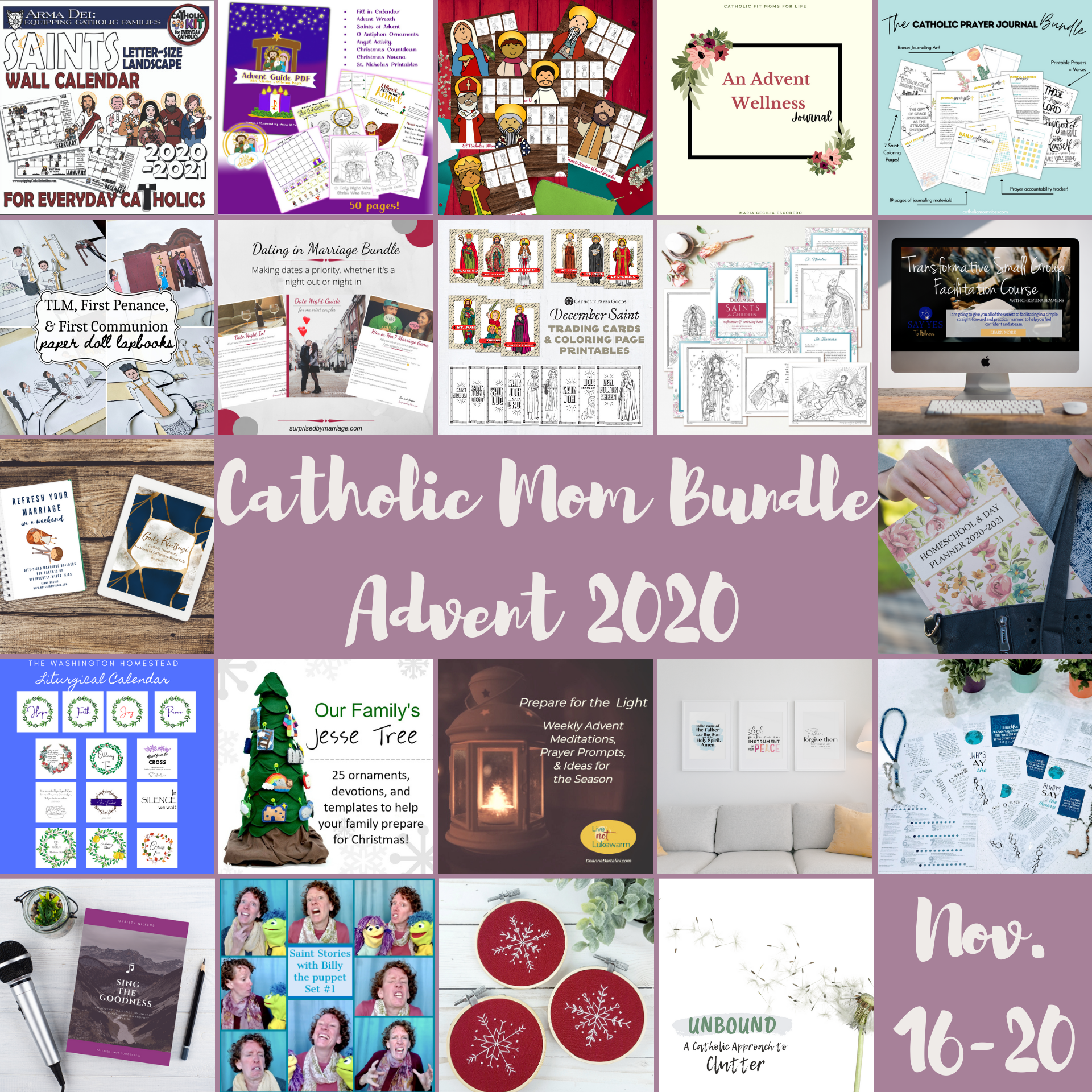 (Visited 739 times, 2 visits today)