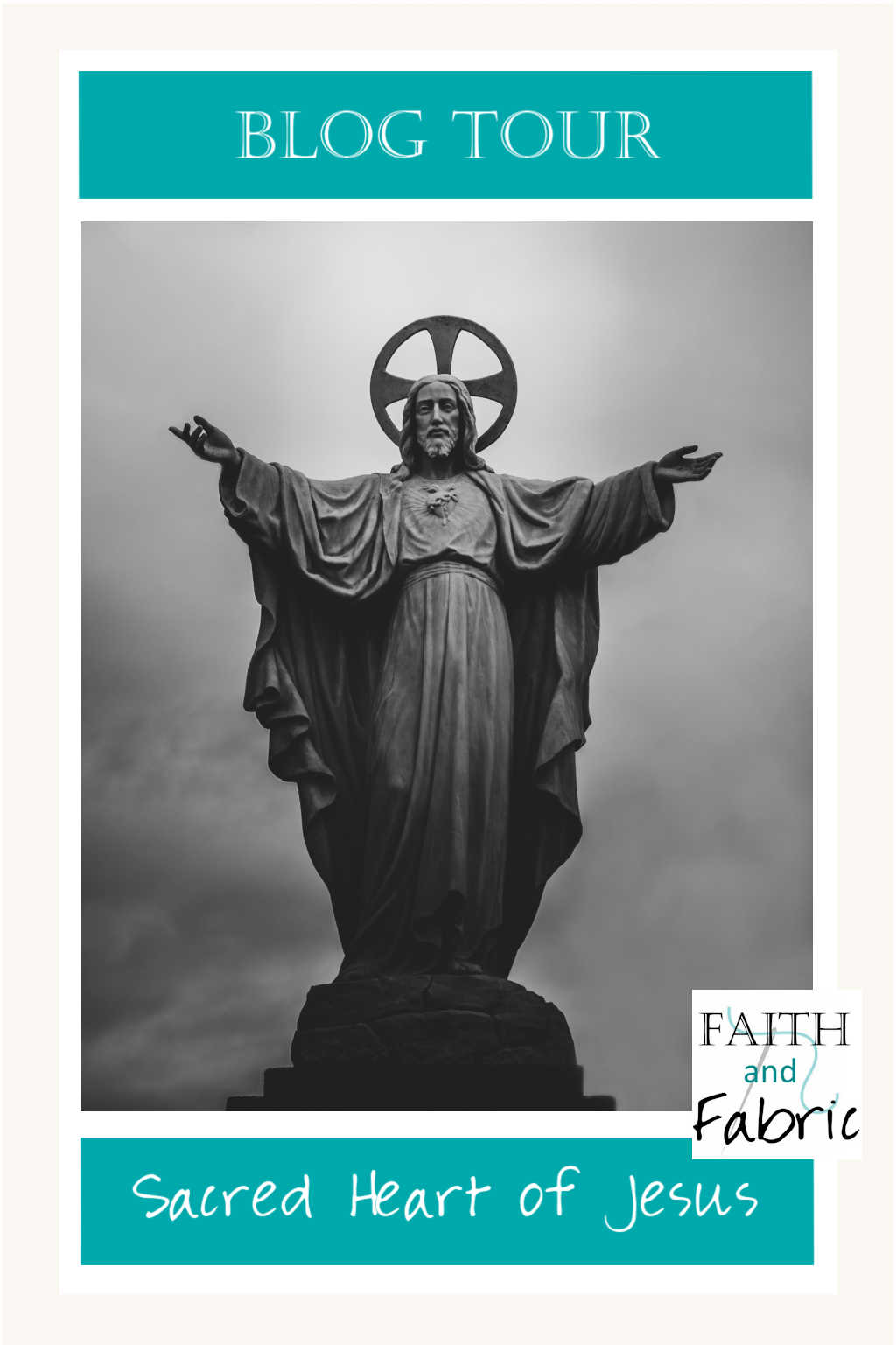 The month of June is a month that we place an intentional focus on the heart of Jesus, which is viewed as a symbol of God's boundless and passionate love for mankind – you, me, and even that neighbor whose idea of "being neighborly" is quite different than yours.
To celebrate the Sacred Heart this year, I've gotten together with a few amazing men and women to share all things Sacred Heart! I'm going to start it off with our Sacred Heart quilt pattern; this beautiful banner uses both foundation piecing to make the rays and applique for the fire and crown of thorns. I love this pattern, as – since it's paper pieced and applique – you can increase of decrease your printer settings to make this any size you like! I use mine as a wall hanging, and made a second as a pillow cover for a friend (which I neglected to photograph before giving it away – doh).

My friend Amy of Prayer, Wine, Chocolate (because, yes please to all three) wrote this lovely prayer to the Sacred Heart. I especially like how she has prayers specific for your stage of life, like young families, empty nesters, those seeking blessings, and more.

Lisa of Little with Great Love has a new program called "Saints of the Sacred Heart Series" with live speakers on 6/6, 6/13, 6/20. How lovely! She also has some great Sacred Heart themed items in her shop.

John did a lovely reflection on his personal search for integrity and humility, knowing that we are not perfect yet still loved. I especially liked how he addressed our relationship with the craziness of this world in saying, "The background noise in the world can also affect my integrity.  I want to gel with the current movements of thoughts and action.  I want to "fit in."  These pressures, mainly stemmed from my desire to be accepted, can guide, and direct my thoughts and action.  I may run the risk of compromising my beliefs and values.  I may even be tempted to compromise my faith and my relationship with God."

…and if this feels like a lot, Andrea Fray did a great job of breaking down what, exactly, this special devotion is all about. She shares the most common Sacred Heart prayer, the accompanying novena, and additional resources where you can learn more.

(Visited 306 times, 1 visits today)