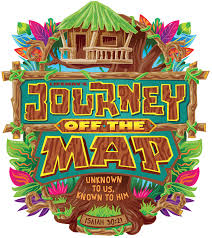 We've been having so much at VBS this summer! This week we're joining in a local parish for a week of VBS Journey Off the Map, a program provided by Lifeway. The theme of "taking kids to uncharted territory where they will begin to understand that obedience to God can lead them beyond the expected" will be perfect for so many of these little guys – with a love for maps, directions, and fun, it's sure to be a faith-filled and exciting week!
While the kids love the programs, I'm always a sucker for the way the churches interpret the theme through decor. Even as an adult, it feels like you're being transported to a whole new world – and the energy of the kids is contagious! The Journey Off the Map was no exception. I hope some of these photos give you inspiration for decorating YOUR VBS Journey – and truly making it off the map!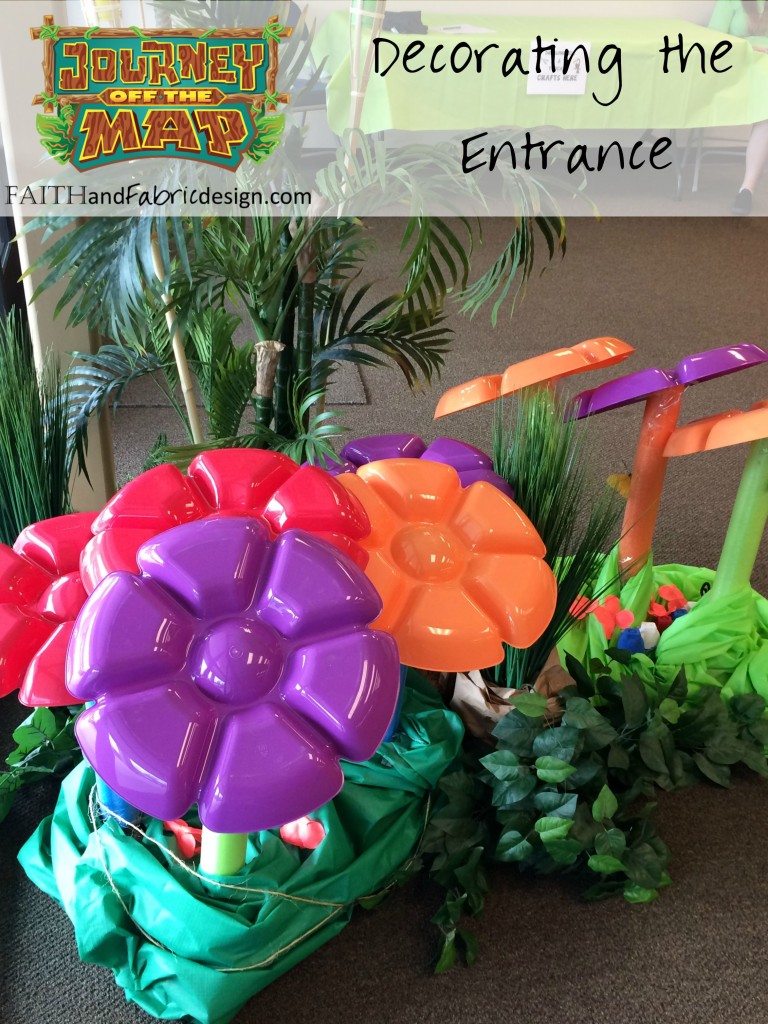 At the entry, large vibrant flowers lined the pathway! These creative flowers were made with a pool noodle beneath an upside-down dollar store veggie tray. Genius. Decorative ivy and floral arrangements, as well as plastic green table cloths wrapped in twine (a great deal at the dollar store), added to the jungle effect.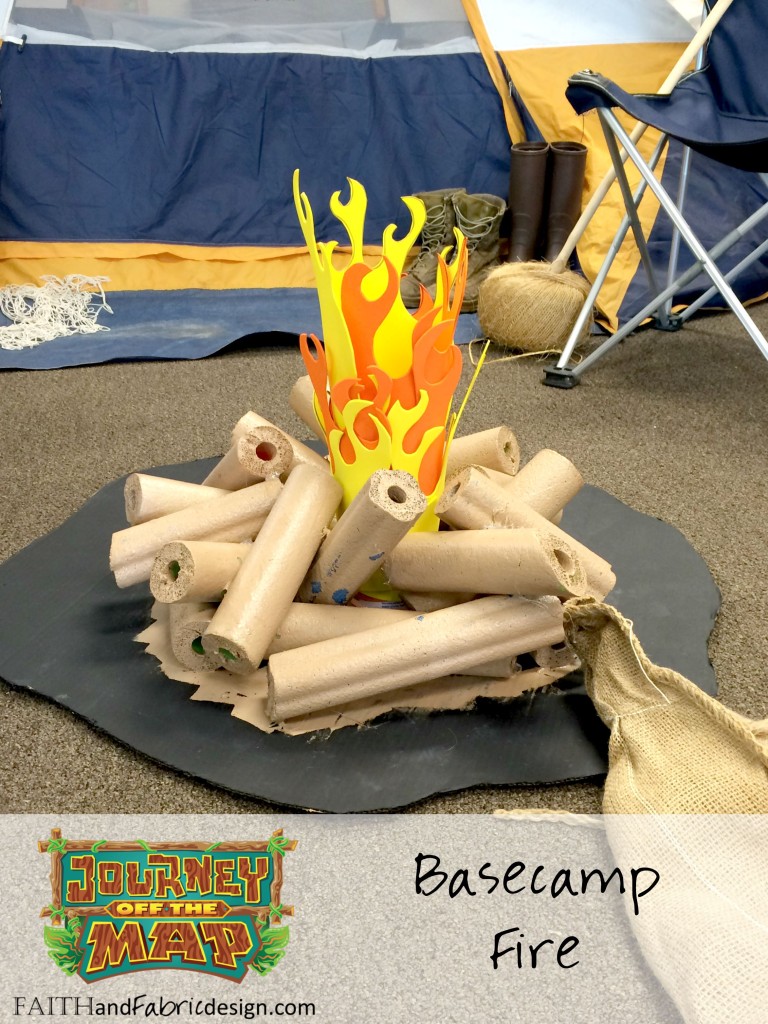 At the base camp, a super creative fire gave trekkers a place to gather! The logs for the fire were crafted from pool noodles painted brown and affixed to a thick piece of black poster board. Foam in orange and yellow was cut into the shape of flames and wrapped to create a 360* realistic fire. Genius!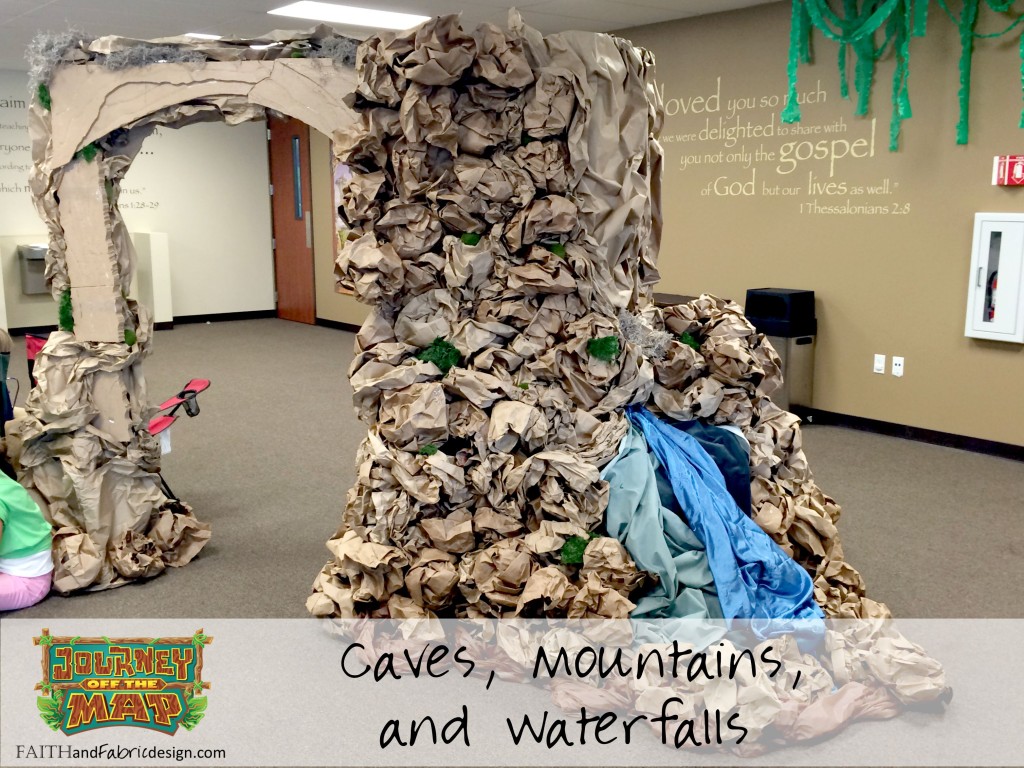 A favorite spot for the kids was to run laps under, around, and through the cave, around the mountain, and past the waterfall. This would make a great entry into a room, and the simple design – made from crumpled paper bags, painted foam pieces, and blue tablecloths is very doable. The green moss and plants mixed into the "rocks" really gave it a realistic feel! Also, can you see the green jungle vines hanging from the ceiling? A plastic green tablecloth, cut and stretched/pinched at the edges, makes a perfect vine!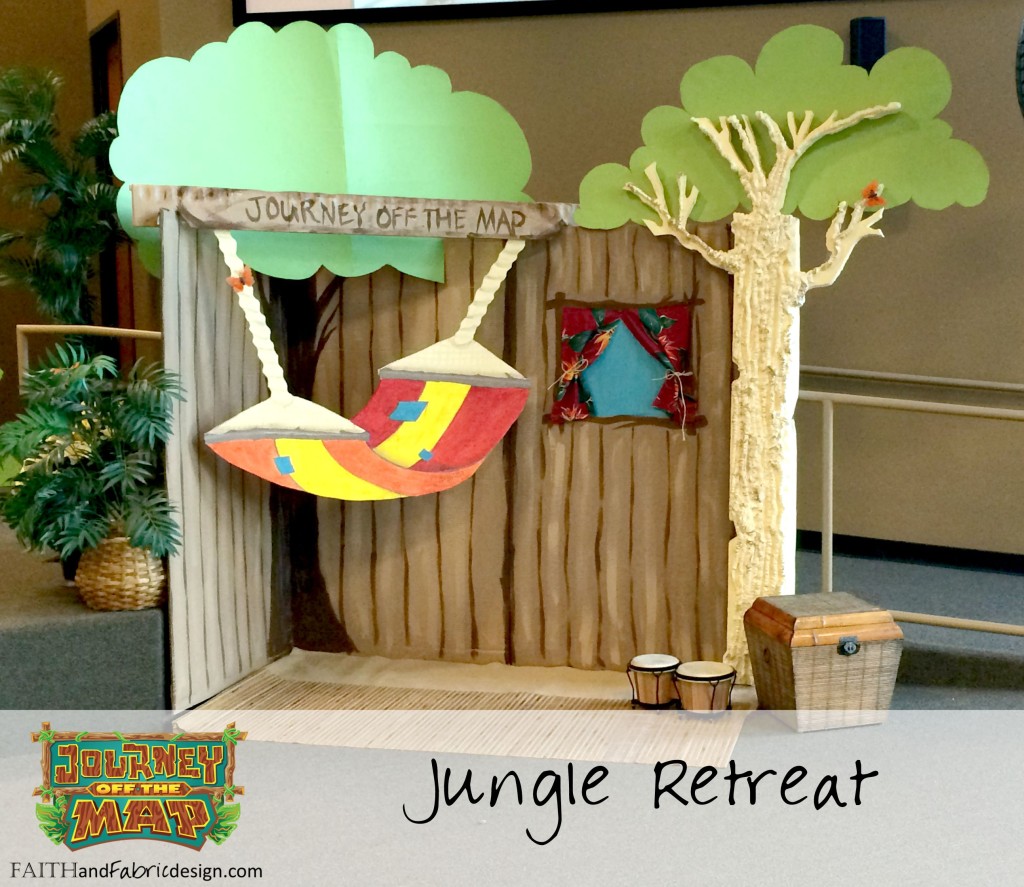 Don't you love this jungle retreat? Anyone on a Journey Off the Map would welcome this as a place to rest. The most creative part is the hammock; doesn't it look 3-D? The painting job on this flat piece of poster board is stellar; it truly looks like you could relax for a bit on your journey. A foam tree, along with a fabric-covered window, make this the perfect jungle retreat.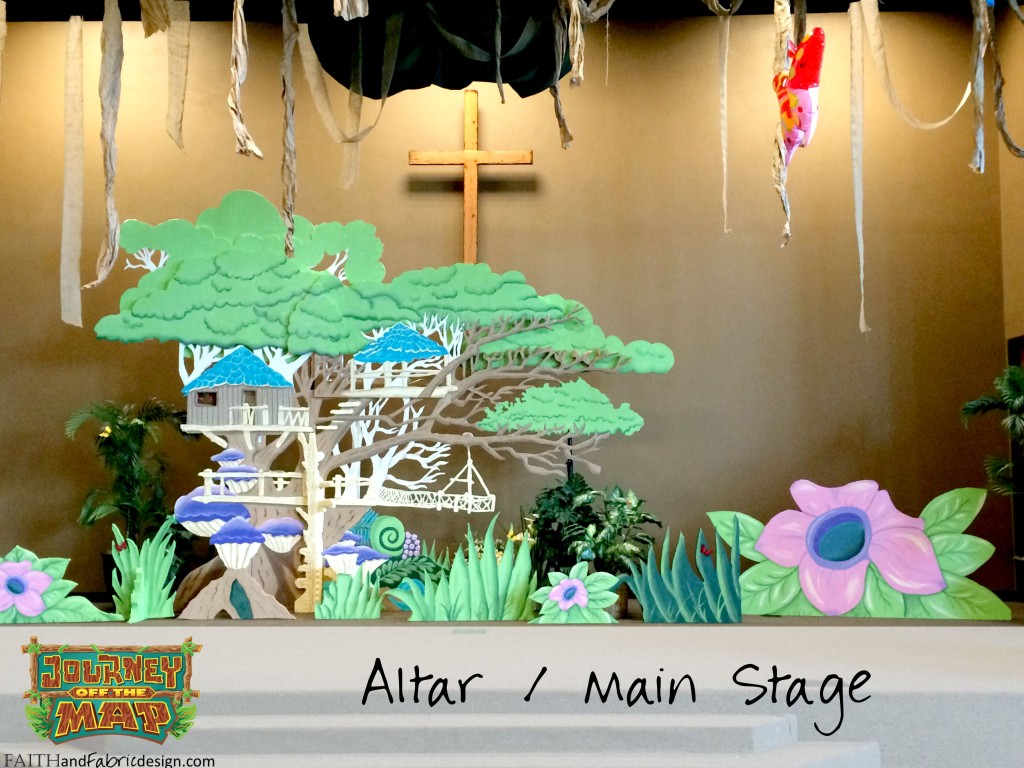 My favorite part (and probably everyone else's, too) was the altar. They created an almost life-size main stage jungle, complete with 3D plants, trees, vines, flowers, and a tree house! I wish I could include a person in the photo to show the scale of these backdrops…they are huge.
The kids are going to have such a great week making new friends, singing faith-filled songs, and journeying off the map as they explore what following God brings. Prayers to them for a wonderful week and beyond!
Do you have any VBS photos to share? Link up in the comments below – I'd love to see how you all decorated for VBS this year. Don't forget to reuse some of those great decorations from VBS Weird Animals a few years back – they'll work great for this jungle theme, and check out our VBS Pinterest Board for even more decorating ideas!
(Visited 500 times, 1 visits today)
);