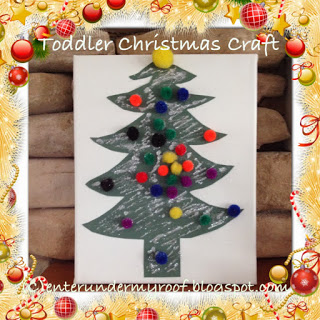 Here's a nice easy Christmas tree project for toddlers and younger kids alike. We had received a giant (GIANT) box of pom-poms from a friend, and – after sitting in neglect in the craft closet – they finally got some use! Using the pom-poms also gave us a chance to practice counting, naming colors, & sorting – all part of the fun.


WHAT YOU NEED
HOW TO MAKE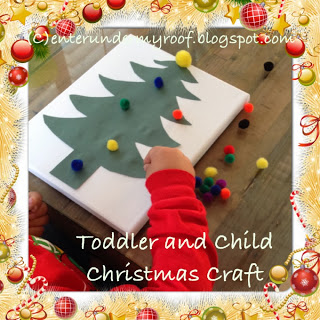 A TIP: depending on how old your little guy (or gal) is, let them do as much as possible on their own! This is a great opportunity for them to practice, learn, and be proud of the work THEY did…all by themselves.
to get started: using the green construction paper, draw a tree the size of the white canvas / construction paper and cut it out. If your little guy (or gal) is old enough to cut, let them cut out the shape you trace. If they're even older, let them draw the tree.
glue the tree down to the construction paper.
again, depending on the age of your child, let them either use the glue and glue down the pom-poms OR ask them where they want the glue (if they're younger) and let them put the pom-poms on the glue spots.
using a cotton swab or your finger, spread glue in a fun pattern on the open spaces on the tree. Sprinkle the glitter over the tree, letting it dry. TIP: it may seem backwards to do this last, but if you glitter first, the pom-poms don't stay on very well.

(Visited 123 times, 1 visits today)
);