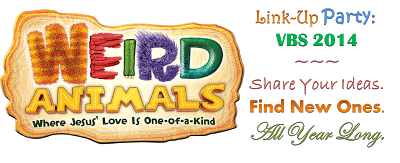 Well, VBS 2013 "Kingdom Rock" where we learned to Stand Strong for God has barely ended, and I'm already excited for our 2014 "Weird Animals". I have visions of lots of textures, vibrant colors, huge unexpected shapes and animals…the possibilities are endless!
As for the theme – it's wonderful. The VBS site reads: "God filled the world with a lot of
crazy creatures…including you!
When kids feel weird, different, or even
lost in a crowd—nothing compares to the
extraordinary love of Jesus." This is a message kids AND adults alike should all remember, and one we can't be reminded of often enough. This idea is carried through their theme song, which you can listen to here on their official site.
While we still have time to plan, it will be here before we know it. I've started a Pinterest Board which you can follow here if you'll be doing the same theme next year. Do you have ideas already started? Share them in our link-up below! This linkup will be open through the end of VBS 2014 – a full year from now – so hopefully we can get some great ideas from all of you included in here. If YOU have a board, links, ideas, etc. on how you'll be decorating and preparing for VBS next year, add it in. Let's pull our talents together and make VBS 2014 a year to remember!
~~~~~~~~~ This Linky Party Has Closed ~~~~~~~~~
Just for fun – this post links up at some of these great sewing, quilting, and Catholic linky parties!
(Visited 129 times, 1 visits today)
);