We came home yesterday to find a green gift bag on our doorstep, fully of Halloween candy. Mmm…chocolate…and I'm talking the good stuff, king size KitKat & Reeses Peanut Butter bars and all. We looked inside the bag to see who had left us this sweet treat, but there was nothing inside to indicate the identity of the gifter except a note that read "You've Been Booed":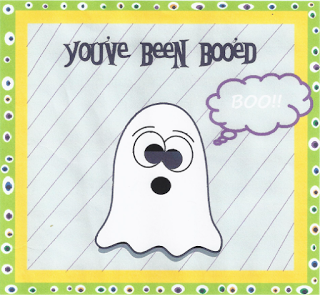 (you've been booed)*
Aww…we've been BOOed! How cute is that?? The note further went to say that we were BOOed by a friend who wished us Halloween cheer, and that we had 24 hours to pass along the BOO. The second page of the two-page note had a little sign that read, "We've been BOOed" which we were to cut out and put in our door so that anyone who comes by to BOO us again knows that we've already been BOOed. (Though thinking about this…hmm…who'd turn away free candy?)
Our BOOed bags, ready to pass out
To be honest, my first thought after reading the note (which gave me warm fuzzies) and eating a piece of candy (which gave me a sugar rush), I knew we absolutely appreciated the gesture but didn't think we'd be BOOing anyone else. After all, there's always <insert any one of a thousand things> that needs to get done. However, midway through the second piece of candy, I realized that's what we're all called to do – treating each other as we want to be treated – and we could help spread some smiles in our neighborhood by doing the same. So, off to the store!
We stopped at both Target and the Dollar Store, and made up 12 little baggies to give out to our neighbors. While we'd love to leave some at the doorsteps of our friends, this mama doesn't want to spend the afternoon driving around with a screaming in the back seat. I actually think there's more value in keeping this local, too. For some of our neighbors – the elderly, the single parents, the disabled, and more – this may be just the smile they need for the day or the only gift they receive this Halloween. This is a great reminder in learning to love your neighbor as yourself…or even more (Mark 12:31).
So next time you're at the store, grab a few extra treat bags, some candy (or Halloween toys / cups / etc. I admit the health fanatic in me bought more Halloween trinkets than candy for our bags) and print the two-page "You've Been BOOed" note. The smiles you will spread are worth every moment you spend putting these treats together!
*Being booed is a good thing! Much better than being egged, or TP'd, or any number of other things that involve needing a cleanup the next morning. 


Just for fun, this post links up at these great Catholic & Quilting sites!
(Visited 401 times, 1 visits today)
);