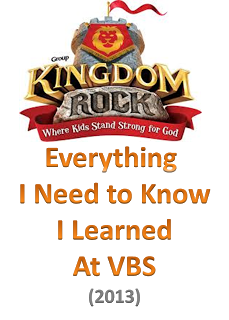 A Knight in Shining Armor isn't always a knight (sometimes it's a chipmunk…or even a bulldog)
Even preschoolers can be amazing chefs
You should always find someone you don't know and give them a high-five
We all have something even special inside us that helps us roll (and tumble)
Never let a bully stop you – even if you're building a brown bag brick wall around Jerusalem
We still joust today…we just do it with pool noodles
Horses really aren't that scary. Just ask Wally.
Some kinds of buildings really *are* edible – especially the edi-building kind
"Lean on me, when you're not strong" has never been so fun
Science rules – especially the tumbling, diving, balancing, anti-gravity kind
Traveling to a dark meadow with King David isn't quite as scary when you have friends by your side
We can always Watch for God in everything we see and do
It's important to mix up the kinds of prayers you offer (and ask) of God, including the kind that come in a plastic bag with flavors of pretzel, marshmallow, and M&M
Idols – especially the red cup kind – are no match for stomping feet
You don't have to be a king to eat in the King's Kitchen
Bible buddies + smart phones = perfect relationship
God's love, family & friends, prayer, trusting God, and the Bible, help us to STAND STRONG!

…can't wait for next year's VBS!
Note: this post links up at Catholic Carnival.
(Visited 53 times, 1 visits today)
);