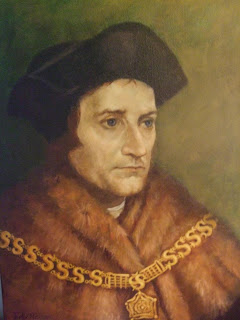 Imprisoned
in the
Tower of London
and awaiting his execution the following day, St. Thomas
More's final thoughts and prayers turned to his family. The saint managed to
write one
last letter
of love to his
eldest daughter, Margaret, by scribbling with a coal on paper scraps he had
managed to hide. With this last letter, Thomas More asked that the Lord bless
each of his four children, and said that he longed to "go to God" with no
further delay.
Although
More accepted his impending death, his wife Alice and daughter Margaret begged
him to avoid martyrdom. Margaret loved her father so much that she waited
eagerly in the crowd on the day he was marched to the Tower of London. She
knelt before him to receive his blessing and then, heedless of the armed
guards, she threw herself into his embrace. When the crowd swept him from her
again, "she, not satisfied with the former sight of him, and like one that had
forgotten herself, being all ravished with the entire love of her dear father,
having respect neither to herself, nor to the press of the people and multitude
that were there about him, suddenly turned back again, ran to him as before,
took him about the neck, and divers times together most lovingly kissed him." Her
grief made even the bystanders weep, her husband
touchingly
recounted
.
St.
Thomas More's wife Alice, a strong-minded and practical woman, openly rebuked
her husband for refusing King Henry VIII's demands to acknowledge the
legitimacy of the king's divorce of Catherine of Aragon and the king's
supremacy over the Church of England.

"I marvel that you, that have been always
hitherto taken for so wise a man, will now so play the fool to lie here in this
close, filthy prison, and be content thus to be shut up amongst mice and rats,
when you might be abroad at your liberty … in the company of me your wife, your
children, and household …. I muse what a God's name you mean here still thus
fondly to tarry."
Alice's
rant rings true. She must have been scared, and fear often shows itself as
anger. She must have felt abandoned and confused. Why would he value an
abstract principle more than his wife and children? But St. Thomas More knew
that death would come eventually, at the hands of the King or at the hands of
time. As he
explained
to his
accusers,

"I do nobody harm, I say none harm, I
think none harm, but wish everybody good. And if this be not enough to keep a
man alive, in good faith, I long not to live. And I am dying already, and have
since I came here been divers times in the case that I thought to die within
one hour, and I thank our Lord I was never sorry for it, but rather sorry when
I saw the pang past. And therefore my poor body is at the King's pleasure;
would God my death might do him good."

St.
Thomas More knew that it does no good to rail against death as if we could
prevent it entirely. We all need to deal with the reality that our loved ones
will die. This reality has special poignancy for me and my husband. My
husband's recurring brain tumors constantly remind us that death will part us
one day. With each new diagnosis, I react differently. The first time I struggled
to believe it. The second time, I threw myself into his arms crying, much like
Thomas More's daughter Margaret. The third time, I yelled at him like More's
wife Alice, demanding to know, "What's wrong with your brain?!" I have yelled
at God, too, asking Him why he wants to take my husband away. We have six small
children, ages 12 and under, and they need their father. I need my husband. But
more than that, I need to trust in God to take care of us no matter what
happens.
Ultimately
only the acceptance and resignation modeled by St. Thomas More can bring peace
in the face of death. As the great saint
eloquently
stated
,
"I pray you and all them, pray for me, and take no thought whatsoever shall
happen me. For I verily trust in the goodness of God, seem it never so evil to
this world, it shall indeed in another world be for the best."
Additional
Sources: James Monti,
The King's Good
Servant But God's First
(San Francisco: Ignatius Press, 1997); Ferdinand
Holböck,
Married Saints and Blesseds
through the Centuries
(San Francisco: Ignatius Press, 2001).
~~~~~~~~~~~~~~~~~~~~

Karee
Santos is the talented author behind the Can We Cana? marriage
support blog. She is a happily married stay-at-home mother of six
children. In her small amount of free time, she and her husband, Manuel P.
Santos, M.D., are writing a book based on Blessed Pope John Paul II's teaching
on marriage and the family.
~~~~~~~~~~~~~~~~~~~~
(Visited 120 times, 1 visits today)
);