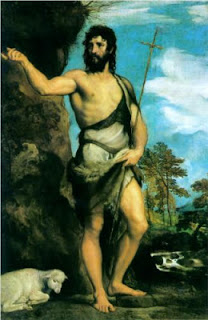 One of my favorite things in learning more about my faith are all the interesting facts that come up along the way. Since we're celebrating Saint John the Baptist's feast day today (June 24th), thought we could share in some fun trivia together, too. See, it's not just Easter that we do trivia projects!
Did You Know:
John's father, Zechariah, was a Jewish priest. Elizabeth, too, was a holy person. (Luke 1:6)
One day, while serving incense at temple, the Archangel Gabriel appeared to him and told him that his wife, who was previously barren, would bear him a son who was to be named John.
Zechariah didn't believe Gabriel and was rendered a mute until the day John was born; when he was born, relatives asked him what the baby's name was. He wrote, "His name is John" and he was able to speak again. (Luke 1:5-25)
Some debate on whether, like the Virgin Mary, John was born without original sin. He was filled with the Holy Spirit, even from his mother's womb (Luke 1:15). This reminds us of Mary, who also was full of grace and born without original sin.
John had quite a flare for fashion, wearing clothing made of camel hair held in place by leather belts (Matthew 3:4)
He also had unique taste in food, and snacked on locust with wild honey (Matthew 3:4)
The feast day of June 24th was selected as a) it is three months after the Annunciation, when Gabriel visited Mary to tell her not only of her pregnancy but that of her sister's (John's mother) as well, and b) six months before Christmas. This way, the events follow a semi-chronological order with the announcement of the pending births followed first by John the Baptist and later by Christ.
The Nativity of Saint John the Baptist is one of the oldest celebratory days in the church and can be traced back to the year 506. (source)
One of the ways the day is celebrated is with fires (controlled fires!) being lit in his name, over which Holy Water is sprinkled and prayers are said. (source)
John the Baptist is a wonderful saint to pray to – especially when it comes to pride. If you think about it, John could have had a pretty big claim to fame – he was, after all, the cousin of Jesus (I mean, seriously – he even leaped in his mother's womb when Jesus was near!), the one to foretell Christ as our savior, and a leader in the early Christian movement. A normal person could easily let this go to their head (heck, I've had even smaller accomplishments make my head swell), but he didn't. People couldn't resist his powerful message, and though they came by the hundreds time and time again to be baptized, he never lost sight of his goal: to point people to Christ as their savior.
What interesting facts do you know about Saint John the Baptist? Leave them in the comments, and I'll add them to our list. Here's one fact I'd love to find out: just how old was Elizabeth when she conceived John? Testaments say she conceived at an "old age", but what – exactly – do they define as old?
(Visited 158 times, 1 visits today)
);