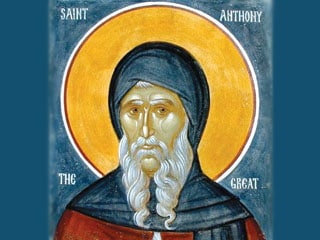 Yesterday, January 17, is the feast day of Saint Anthony…that's Saint Anthony the Great, mind you, and not the Saint Anthony that you pray to when you lose something (note to self: check with St. Anthony on location of car keys). *That* Saint Anthony is actually Saint Anthony of Padua, and we'll talk about him later on this year.
Saint Anthony the Great was well known for spreading the concept of monasticism.


Monasticism (from Greek μοναχός, monachos, derived from μόνος, monos, "alone") or monkhood is a religious way of life that involves renouncingworldly pursuits to fully devote one's self to spiritual work. The origin of the word is from Ancient Greek, and the idea originally related to Buddhist monks in 550 BC.
As a monk, Saint Anthony traveled the world – a concept not practiced much back in early AD. He was quite a literalist (I'm making that word up, but you know what I mean) and took Jesus's words literally: If you want to be perfect, go, sell what you have and give to the poor, and you will have treasure in Heaven, come, follow me. Matthew 19:21. He sold the land he had, gave the money to the poor, and took up solitary residence in the desert where he lived in near isolation for almost 20 years (source: Aquinas & More). Upon leaving isolation, he was just as healthy and sound as he was when he went in! He devoted the next few years to helping teach the colonies of monks who made a home near his while he was in isolation. The isolation suited Anthony, though, and he soon returned to a lesser-isolated version for the second half of his life. While he lived in the outskirts and alone, he would see any visitors that came. It is through his life (teaching through his actions) that he is seen as the founder of Christian monasticism. Pretty Great!
(Visited 50 times, 1 visits today)
);