Saint Agnes. I'll admit, I knew nothing about her when I first started researching her story, but am so impressed by her after learning about her life! There are so many thoughts here…
1. Her Name: I absolutely love when we sing Latin at mass, and one of my favorites is Agnus Dei. Agnus translates to Lamb and Dei to God, so you're essentially singing "Lamb of God". Notice how similar Agnus is to Agnes? Amazing once it's pointed out, right? St. Agnes is often seen with the lamb as a result of this similarity. The name Agne actually means "chaste, pure". Interestingly, it's customary for two lambs to be blessed at Sant'Agnese in Rome, Italy on her feast day – her bones are still preserved here. Once blessed, the lambs are shaved and the wool made into a pallium (see photo to the left), which the Pope gives to one of the archbishops each year. (I'm sure, especially in the cold Italian winters, that this gift of wool is greatly appreciated!)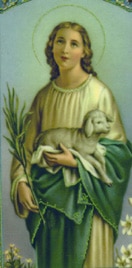 2.
Her Story
: Agnes was born in Rome in the year 291. A beautiful girl, she had many suitors who wished her hand in marriage (apparently they married quite young back then!). Agnes, however, had already taken a vow to the Lord to serve only Him and keep her purity all her life. When Procop, the son of the Governor sought her hand, Agnes turned him down again saying that she was already promised to the Lord. Procop, not one to be turned down, brought her before his father and turned her in as a Christian (something you weren't allowed to be back then). His father offered to spare her life if she denounced God; she did not. She chose death over marrying a pagan Roman officer. She was condemned to die by fire, and when the flames wouldn't light (God's protection over her) a sword was taken to her neck. Her feast is celebrated on the day of her death – January 21.
What impressed me most about Agnes was her CONVICTION. Seriously, she has more conviction and strength in her beliefs at 13 than most people ever have as adults. I also think about what I was like at 13 years old (seventh grade) – or what some of today's youth is like at 13 years old – and am so impressed by her. I think so many of our youth could use such a great role model! As a mom, I think about the many challenges ahead of my husband and I in raising our son in today's culture. With the instant gratification and unmentionable/deplorable images readily accessible with the click of a button, it will be so (so!) important to teach him about chastity, purity, love, and waiting. St. Agnes is such an amazing role model.
Help tell St. Agnes and her story with an activity for the kids!
(Visited 44 times, 1 visits today)
);