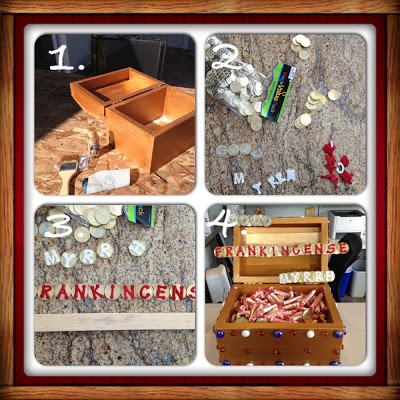 This is a great project you can do with your kids! (…as long as they are beyond the stage of "everything goes in my mouth".) Epiphany, or "Little Christmas", was the revealing of Christ to the world as a King in his own right! What a day to celebrate indeed!
For this project you will need the supplies below. I've linked each supply to what I used.
sand paper
paint brush
embellishments (I used glass marbles)
candy or other "treat" (ideally, chocolate gold coins if you can find them)
hot (or low temp) glue gun
1. Sand the unfinished wooden trunk…seriously, sand it really well. It's best if you can sand it first with a high grit paper and then use a fine grit paper to smooth. Using a damp cloth, wipe down the box to ensure any shavings are removed. Paint the box (I used a gold metallic paint), and let dry.
2 & 3. Using the gold coins, place one letter per coin spelling out GOLD, FRANKINCENSE, and MYRRH. Glue the coins to a thin strip of wood – I used old paint stirrers 🙂
4. Once both the trunk paint and coin glue are dry, glue the gold coin gift words to the top of the box. Decorate your box with whatever embellishments you want! Lesson learned: I used a low temp glue gun and the glass marbles didn't stick as tightly as I wanted them to. Fill the trunk with the rest of your gold coins as well as any other "treat". Enjoy! …and be sure to share the
story of Epiphany
with your family so they really know the meaning of this special day.

(Visited 405 times, 1 visits today)
);