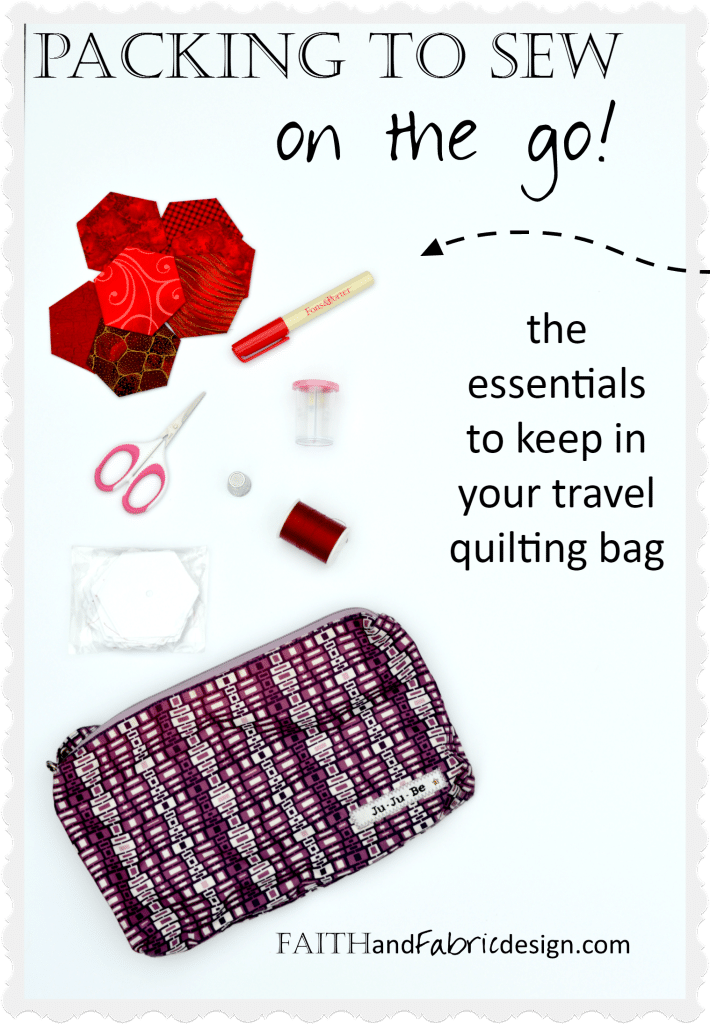 Ahh…summer. It's a time of days at the beach, lazy vacations, concerts at the park, and outdoor BBQs. With all this time outside, your sewing time is guaranteed to go down, right? Never. Hexagons are the perfect accompaniment to slow summer days spent out of the sewing room. With just a few items, you can pack a travel sewing kit and have your hexies (or your favorite paper piecing project) with you anytime.
Here are my key essentials in my travel sewing kit:
pre-cut fabric (it's a bit tough to tote around a rotary cutter and mat)
glue pen (unless you thread baste)
needle carrying case
thread
I also couldn't live without my portable design wall! An added bonus is that it saves space at home, too.
Some of your very helpful comments include these additional items:
What do you keep in your travel sewing kit? Let us know in the comments below and we'll update our list. A great tip: be sure not to raid your travel kit when you need supplies. It may be a great idea now to grab those scissors out of your bag as you sit at your sewing machine, but it'd be a real bummer tomorrow when you find yourself on the go with your bag and no scissors inside.
Don't forget to pin this post so you'll have it for your next trip – and tag your photos with #travelinghexies to show us where your paper piecing goes!

Just for fun – this post links up at some of these great sewing, quilting, and Catholic linky parties!
(Visited 878 times, 1 visits today)
);