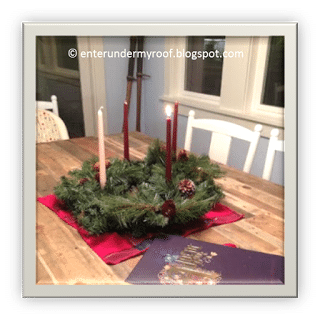 Advent is such a wonderful season for preparation! The word Advent means "coming" – and we spend the time preparing ourselves for the birth of Christ.
It's so easy to create your own Advent wreath, too – one of my favorite ways is to use the extra branches that you've cut off your Christmas tree, lay them out in a circle, and use wire to fasten them to each other. It makes a beautiful wreath that smells wonderful and (best of all) is free!
The Advent wreath is made up of four candles – three purple and one rose/pink – which tie into the liturgical colors for the Sundays of Advent. Each candle represents a Sunday leading up to Advent. (Another interesting tidbit I once read was that each candle also corresponds to 1,000 years – and the 4,000 years total is the time between Adam & Eve to the birth of Jesus. Interesting!)
Each candle is significant both as a group and on its own. Below is the significance our family ties to the candles. We also have two free printables for you to keep beside your Advent Calendar for the entire month of December (see bottom of post), as well as a beautiful Jesse Tree that you can use to count down the days of Advent!
1st Sunday of Advent

Color: Purple
Symbolizes: Hope
Name: "Prophecy Candle", as in the prophets who foretold of the birth of Christ and the hope that his birth gives to us

2nd Sunday of Advent

Color: Purple
Symbolizes: Love
Name: "Bethlehem Candle", representing Christ's manger and the love of his (and our) family

3rd Sunday of Advent

Color: Rose
Symbolizes: Joy
Name: "Shepherds Candle", for the shepherds who found such joy in seeing the Christ child

4th Sunday of Advent 

Color: Purple
Symbolizes: Peace
Name: Angel's Candle
…and if you're curious about the book in the photo, it's The Advent Book. This book is a great way to bring Christ into your home for Christmas, and will quickly become both a family tradition and an heirloom for years to come.
Printable 1: Single sided information sheet on Advent Wreaths; prints at 8.5″x11″
Printable 2: Double-sided information sheet on Advent Wreaths + fun facts about Advent; prints on both sides at 8.5″x11″ and cut in half to make double-sided half-page info sheets.

Just for fun…this post links up at these great Catholic and Quilting sites – plus Catholic Mom!
(Visited 265 times, 1 visits today)
);